On July 27th seals at the coastline of Heggstaðanes and Vatnsnes, total of 100 km,  were counted by the Seal Center's specialists and volunteers. This is the eight time that the counting takes place.
This year total of 706 seals were counted (mostly harbouseals). That number is slightly smaller than in 2013, when the result was 757 animals. In 2012 the number was 614. It is important to keep in mind that these numbers are only a clue to the minimum amount of seals in the area. Alot of factors affect the number of seals that can be spotted, weather beining one of them.
It is also important to keep in mind that the numbers do not indicate the total population of the Harbour Seal. Later this summer a population evaluation will be done by the Seal Center. The last population evaluation in Iceland was done by the Seal Center in 2011 and the results indicate that the population has been the same since 2003 at a total of just under 12 thousand animals. 
We want to take the oppotunity to thank all the volunteers that have helped during the Great Seal count throughout the years. We also thank the sponsors of the Great Seal Count. This year our sponsors were: Kaupfélag Vestur Húnvetninga, Hótel Hvammstangi, BBH útgerð, Söluskálinn Harpa, Húnaprent og Brauð og kökugerðin Hvammstanga.
Sandra Granquist (dýraatferlisfræðingur), verkefnisstjóri.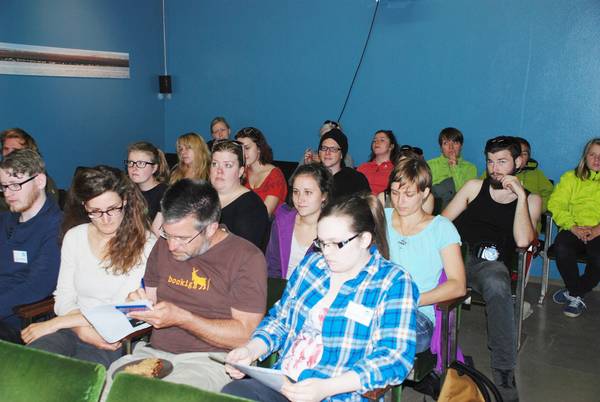 Seal Center stadd and volunteers prepare the Great Seal Count befor heading out to the field.