Be welcome to The Great Seal Count an event at the Icelandic Seal Center in Hvammstangi in July every year. This is a fun event and you need to trust yourself to walk on the beach for approx. 2-7 km.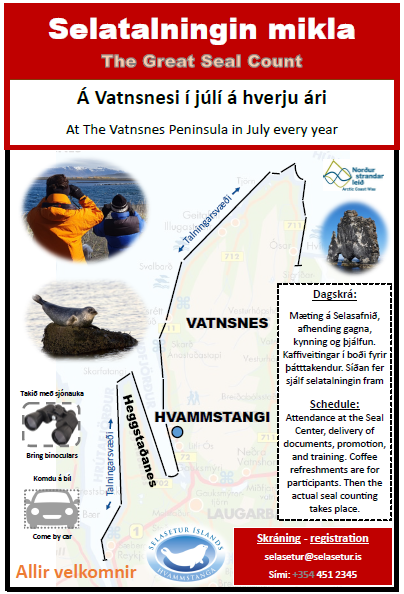 Schedule:
Attendance at the Seal Center, delivery of documents, promotion, and training. Coffee refreshments are for participants. Then the actual seal counting takes place.
Please bring binoculars and come by car 🙂
The adventure began in 2007 with a seal count on Vatnsnes and has taken place regularly since then, most recently in the last summer of 2022. Participation gives people the opportunity to see harbor seals and occasional seals in their natural environment. One of the goals of the Icelandic Seal Center is to inform the public about seals and seal research, this is one of those events.
More information about the events and the results can be found here on Wikipedia.