Welcome to The Seal Circle in Húnaþing vestra and Hvammstangi in the Land of Seals.
The Seal Circle is a new tourist route in Northwest Iceland (2021) and is 111 km long. The Seal Circle is a circular route, from Hvammstangi via Vatnsnes, over to Kolugljúfur in Víðidalur, and back to Hvammstangi.
It is ideal to start the trip at the Icelandic Seal Center in Hvammstangi, both to learn from our exhibition about seals' way of life and also to get information about what the area offers in the Hunathing vestra information center.
Hvammstangi – Icelandic Seal Center and the district's information center.
Hamarsrétt is a large corral in a unique location.
Illugastaðir – with its famous seal sighting and culture.
Hvítserkur is a famous sea stack and Ósar has a large seal haulout.
Borgarvirki is an old Viking fort and historic site.
Kolugljúfur is a deep gorge cut into volcanic rock by the river.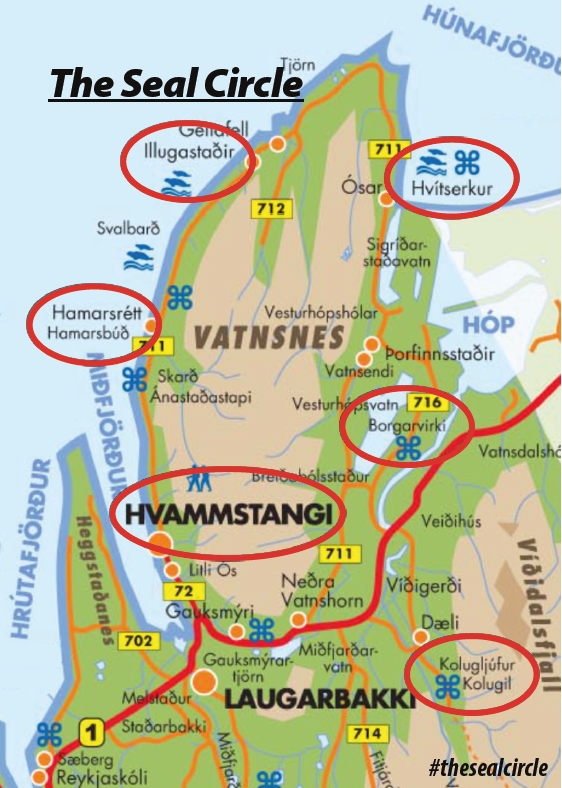 #sealcircle #selaslod #arcticcoastway
The Arctic Coast Way starts at Hvammstangi in North West of Iceland and the Icelandic Seal Center and The seal circle is part of it.